In addition to being the voice in front of local and state elected officials for fighting for lower tuition and more financial aid, the Student Senate represents the student body at meetings and in college committees.
The senate also subsidizes the cost of professional conferences and competitions for students and provide social, educational, cultural and leadership activities for the entire college.
The Student Senate consists of a president, a vice president, a director of development, a public relations coordinator, a secretary, a treasurer, a director of internal affairs and representatives from each program area.
More about Anoka Tech's Student Senate
Any student enrolled in six or more credits who maintains a GPA of 2.0 and is in good standing with the college is eligible to be a member of Student Senate. PSEO students are also encourage to join.
We are always looking for new members who want to be more active and involved on their campus while improving the social atmosphere.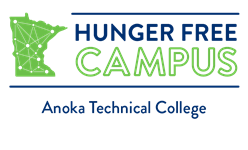 During the 2019 Minnesota legislative session, students championed The Hunger Free Campus Act into state law. This law recognizes colleges in Minnesota that are actively working to reduce food insecurity.
Anoka Technical College successful fulfilled all the requirements of a Hunger Free Campus that includes the following:
Having a food pantry, partnership with a food bank, or some type of food distribution system on campus available to students.
Having a designated staff person on campus to educate students on SNAP and other public services aimed to reduce food insecurity.
Providing emergency funds to assist students who may be experiencing basic needs insecurity.
Having a taskforce dedicated to addressing food insecurity concerns.
Hosts or participates in at least one hunger awareness event each year.