Work Study is a type of financial aid, financed through state or federal funds, allows students to work part-time on campus in a department of their choice (depending on job availability). Students work from five to 20 hours per week during the school year and up to 40 hours per week during the summer.
How To Be Considered for a Work Study Opportunity
Submit a FAFSA form to the financial aid office early in the school year
Demonstrate financial need
Indicate interest in a work-study position on the FAFSA (FAFSA Code: 007350)
Accept Your Award & Choose a Job
Review and accept your award notification from Financial Aid. Be sure to accept your work study eligibility
Create a student account on College Central using your STARID to search for Work Study/Student Worker positions. 
Create Account on College Central
On the Welcome Page click on the options for "Students"
To view current work study job openings:
Once logged in to College Central, select "Search-My School's Jobs
On the "My School's Jobs" page, select the "Advanced Search" option to the right
In the KEYWORDS field, type "SW-ATC" then scroll down and select "Begin Search"
View current job postings for student worker (work study) positions

Request an Interview: Contact the supervisor or department shown to request an interview
Interview for the Position: Bring your resume and related materials to the interview
Tax Documents: If you are hired, complete the Student Employment Authorization Form (including W-4 and I-9 forms) and return completed forms to the Financial Aid Office             
Assistance in locating off-campus employment is provided by the  Career Services Office.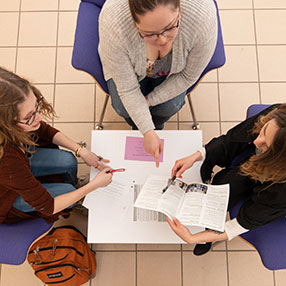 FAFSA Help Nights on Campus
Get one-on-one assistance to complete your FAFSA. Email Finaid@AnokaTech.edu to reserve a spot.
Spring FAFSA Help Events are yet to be scheduled. Please check the college calendar for updates.
Bring a copy of your taxes or a copy of your parent/guardian's taxes if you are under 24 years old.