Why choose Anoka Technical College? Here you can develop the skills you need to get started on a career path, in a supportive community. The Anoka Tech campus is right on Highway 10 in Anoka, accessible by bus, train or vehicle. Learn more about Anoka Tech's 70+ technical programs in the way that works best for you. 
Meet with Enrollment Services
Appointments are available with Enrollment Services staff Monday - Friday, both in person or by video chat.
Weekly Information Sessions
Anoka Tech hosts information sessions every Tuesday and Wednesday at 10 am. Tuesday's sessions are offered remotely over Zoom. Wednesday's sessions are offered on campus and include a tour. 
Join us to learn more about:
Academic programs
Student services
The admissions process
Cost, financial aid and other ways to pay for school
Enrollment staff is also available to answer individual questions after the info sessions.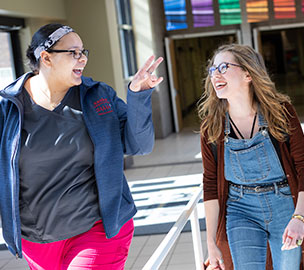 Spring Open House
Tuesday, April 4 from 4:30 to 6:30 pm
Join us any time to learn more about our 70+ in-demand career programs, meet with faculty, tour campus, explore program labs and more.
RSVP
Admissions Events
Anoka Tech hosts program-specific information sessions, Open Houses, One Stop enrollment events and more throughout the year. Check the calendar for more infrormation about events designed to explore Anoka Tech's programs that lead to in-demand careers.