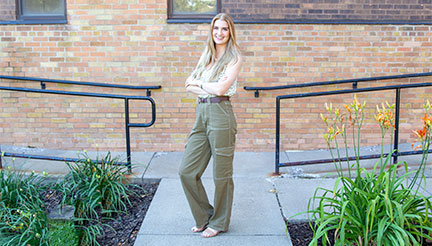 After high school, Angie Norton '19 enrolled in a four-year university nursing program. She discovered quickly that it was not the path for her. Shortly after starting the program, Angie found herself dealing with mental health and addiction issues that forced her out of the program. "I wasn't the best person and instead of walking away to take care of myself, I isolated myself and failed." 

Angie moved home and enrolled in community college but still struggled. "I was tired of the person I was and I wanted to change." Angie worked hard to heal and get healthy. She worked, completely changed her lifestyle and lived at home with her parents.

While standing in the kitchen one day her dad asked the question – what are you going to do with your life? "I remember saying I don't know what my dreams are, and his response was, 'you just need to pick one.'," said Angie. She took that advice and started considering her options. 

Angie's experience at the start of her college career made her shy away from health care, but she knew she wanted to work with her hands, not behind a desk. "I had family in the construction field and an uncle encouraged me to look into being an electrician," she said. "I'm a non-conventional person anyway and the construction field was new and exciting to me."
A Fresh Start on an Unexpected Path
Angie started in Anoka Technical College's Construction Electrician program as one of only a few women. From day one, the faculty went above and beyond to support Angie as a female in the trades. Instructors proactively addressed some of the challenges in workplace culture she may face and set a standard for support among themselves and other students in the program with her.Angie found it a bit tricky, during the first week of classes, to feel included in the classroom with her peers. But, with a simple invitation to join a group of classmates during lunch on campus, she quickly set a foundation for friendships that still last today.
"I am extremely grateful to all of my classmates for helping give me the college experience that I wanted," said Angie. "My instructors and students were there to help support me every step of the way."
Support to Persist
Angie hit her stride. She found a program that challenged her and the support from faculty and friends to consistently show up for herself and the dream she chose to follow. With only a semester left of the program, Angie was faced with a sudden tragedy.

"I was in my second year and the second semester of the program and was in Las Vegas with my friends when I got a call from my mom telling me there's been a tragedy in the family," said Angie. During the call her mom shared that her Dad had been in a snowmobile accident, was missing for a few days and had passed away – that's all she remembers before going numb to the news and making it home to be with her family. 

This sudden, tragic loss had Angie conflicted on how to move forward with her education. How could she give herself the space and time to grieve, take care of her own mental health and fulfill a dream inspired by her Dad?  

Angie reached out to her instructors for support and guidance. "The faculty encouraged me to take time but also make sure I finished what I started," said Angie. 

And that's exactly what she did. 

"Going to class and finishing the program gave me the normalcy, comradery and hilarity that I needed and didn't even know it. I don't think everyone at Anoka Tech even realized they were providing me what I needed to push through. I credit a lot of my ability to finish to the faculty and students."
Graduate, Apprentice and Dreamer 
Angie completed the program and had a job with one of Anoka Technical College's Foundation partners, Milow Electric, before graduation. 

"I had received a scholarship from Milow my second year and when I knew they were hiring , the instructors at Anoka Tech encouraged me to apply," said Angie.

Angie was an apprentice with Milow for three years, they recognized her strength in customer service and trusted her with a lot more than typically lands on an apprentice. From day one, her team at Milow  treated her as an equal in the field – but being a woman in construction was draining for her. "Being on new jobsites all the time there was a fair share of belittling, never from my colleagues, but there were some bad experiences," said Angie. "But I would never want that to discourage me or other women to go into the field; women need to be represented in the trades." 

Recently, Angie decided to take a break from the construction electrician field and her position with Milow to focus on preparing for her test to become a Journeyman Electrician. By taking a step back, Angie has been able to take care of her mental health, work part-time and plan for her next dream with her fiancé. 

"My fiancé is in the Air Force and will be out soon. He's spent years supporting my dreams so we have a plan to slow down, travel and maybe even live somewhere else before we settle down and have a family."

No matter where Angie's next dream takes her, she is more confident and stronger because of her time at Anoka Tech. "Anoka Tech was a huge part of my life – me going through a huge transition and me getting back to the person that I wanted to be. I am SO thankful for the college and everyone there for being part of that."
---
Anoka Technical College exists to serve students and the surrounding community with the finest career and technical education in Minnesota. This mission would not be possible without mutually beneficial partnerships throughout multiple sectors in the community. This story is an excerpt from the Anoka Technical College Community Newsletter, Issue 4.
Take the Next Step