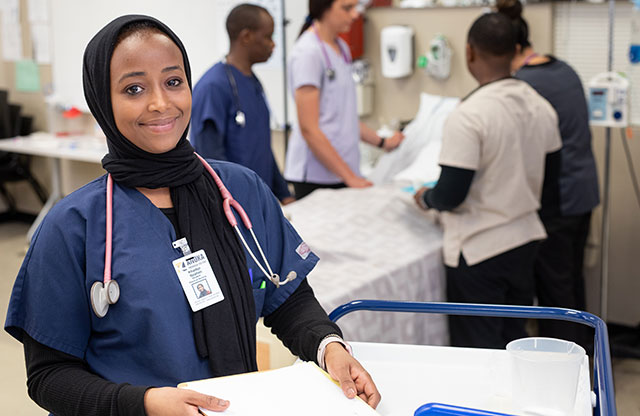 August 20, 2019
Practical Nursing program becomes home away from home for mother of three
When Khadijo Ibrahim walked on to the stage at graduation last May, she was filled with a mixture of feelings of relief, pride, nervousness and gratitude. It took a lot to get to that point, and the achievement was overwhelming.
Khadijo is the middle child of six, she and her family emigrated from Kenya in 2001. Since 2011, she has been working in health care as a certified nursing assistant (CNA) and medical assistant at a long-term care center. As a mom of three, Khadijo consistently balances time with family and work to provide for them. 
Following in her sister's footsteps, Khadijo started at Anoka Tech in 2017 and joined the Licensed Practical Nursing (LPN) program in the fall of 2018, shortly after becoming a single parent.
While her path to Anoka Tech and graduation was not a free of obstacles, Khadijo was able to make the college her home away from home with staff, faculty and peers that made her success part of their own missions.
"On my first day of clinicals, I got a flat tire and was late. I remember feeling horrible, but my instructor was understanding and seemed genuinely concerned about my well-being," Khadijo shared.
The stress of balancing life at home, being a first-time student 10 years after most of her peers and the rigorous curriculum filled Khadijo with doubt at times.
"I wanted to raise my family and be independent," said Khadijo, "that's what motivated me and it has definitely paid off."
"Anoka Tech is the only college I've attended, and I don't know if I could find another college like it. There's a sense of belonging and encouragement not only to continue, but succeed," Khadijo explained.
Just over a month after graduation, Khadijo took her boards exam, passed on the first try, and she's been working in her field as an LPN with Park Health and Rehabilitation Center. Khadijo learned quickly that education doesn't end in the classroom. "It wasn't after graduation or passing my boards, it's when I'm on the floor, still learning and working, that's when I feel like a nurse," Khadijo said. "And, I have Anoka Tech to thank for that."
Capitalizing on the momentum of her new career, with continued motivation for providing for her family, Khadijo applied for a Registered Nursing degree program at Minneapolis College. She hopes to pursue the degree part-time beginning fall 2019.
--
Anoka Tech's LPN program is designed to be completed in just two semesters. This allows students to quickly enter an in-demand healthcare field. Learn more about Anoka Tech's Licensed Practical Nursing program.
Take the Next Step