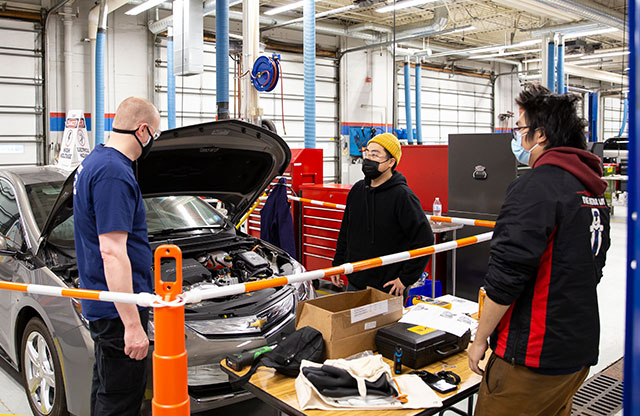 February 17, 2022
New Automotive Electronic Diagnostic Specialist diploma program at Anoka Technical College
Anoka Technical College is adding a new advanced Automotive Electronic Diagnostic Specialist diploma program to its offerings in the fall 2023 semester.
The 32-credit program aims to give new, successful automotive program graduates and technicians new to the field a leg up in the industry through intensive diagnostic training.
"Diagnostics are not always part of your job day-to-day as a new technician," explains Dave McFarland, Automotive program faculty member at Anoka Tech. "It can be intimidating and it's a perishable skill. This program will take what could take 8-10 years in on-the-job training and brings it to a hands-on, condensed lab experience."
The program has been in development at the college for three years, in response to a growing need in the workforce and trends in automotive manufacturing shifting to electric and hybrid vehicles. 
As part of their second year at Anoka Tech, students in the Automotive Technician degree and diploma programs are exposed to working hands-on with electric and hybrid vehicles.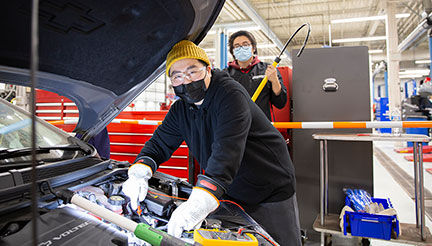 Alex Vang, a second-year student at Anoka Tech recently learned about the new program offering and is eager to learn more.
"The program really excites me because you'd have the opportunity to learn how to diagnose an issue in exactly the way it's happening in the workforce," said Vang. "The advantage the program gives is that you would not be afraid to diagnose, you'd build on your skills and ultimately build trust with your service manager to do good work, on time."
Through the Anoka Tech program, Vang has built his confidence in his work in the shop and knows how it will contribute to his future as a technician.
"Electric vehicles are the future. More manufacturers are pumping out more hybrids and electric vehicles," said Vang, "for us new guys coming into the industry, we have to be the people that employers will look upon to diagnose these electrical issues and to work on these hybrid vehicles."
Anoka Tech's Automotive program is nationally accredited by the National Institute for Automotive Service Excellence (ASE) Education Foundation. After successful completion of the advanced Automotive Electronic Diagnostic Specialist program, students will qualify for ASE certification testing in: A6: Electrical/Electronic Systems, A8: Engine Performance, A9: Light Vehicle Diesel Engines, L1: Advanced Engine Performance Specialist, L2: Electronic Diesel Engine Diagnosis Specialist and L3: Light Duty Hybrid/Electric Vehicle Specialist.
Learn more about Anoka Tech's Automotive Technology program offerings here.
Take the Next Step