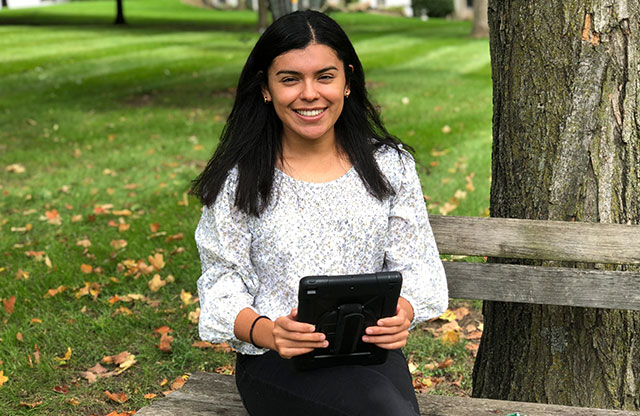 October 19, 2021
Judicial Reporting student training for more than a job, it's a dream career
After finishing high school, Melissa Vega was interested in working in the criminal justice field. She attended college, received a degree in criminal justice and started a job at the local county jail. She didn't love the job, it was work. After experience and exploring other options she came across a lot of job openings for court reporters and the field sparked her interest.
"It's [Judicial Reporting] a unique program and skill. It's a field where you can grow and offers a lot of opportunities. You can work in the courts, freelance or do captioning," explained Melissa.
She began searching for colleges that had in-person Judicial Reporting and Court Captioning programs. 
"There are very few court reporting programs in this part of the country. My home state [Iowa] no longer had open spots for the semester I wanted to enroll, but Anoka Tech did," said Melissa. "I visited the school, and I liked the size and people of this school." 
Melissa made the move to Minnesota to attend Anoka Tech and was able to establish relationships with her classmates and instructors in person. She was doing something new everyday and challenging herself. Melissa had found a career path that can be more than "just work."
"I am getting ready for my dream job. I had never had a job that I truly enjoyed; it was just work. I just enjoy this," she shared.
Since the COVID-19 pandemic caused the program's classes to temporarily resume online, Melissa moved back to Iowa to be closer to family and complete the program virtually. Learning in this format was not part of her initial plan, but Melissa has embraced the challenge and compares the program to training for a marathon.
"It can be challenging to stay motivated and patient to improve skills and speed, but the one thing that really stands out to me with Anoka Tech is the support," said Melissa. "I've been to other colleges since high school and Anoka Tech is different. I wouldn't be where I am without the mentors and friends I've made."
Melissa is confident that the challenges will be worth it and knows that her instructors are committed to her success.
"My instructors are/were working court reporters. This gives me the confidence that I am getting the best education here. I know they are preparing me with the skills I need to become the best court reporter!"
"This [Anoka Tech] is a great place to receive an education. You will meet like-minded individuals, and you will find that all of your instructors care about your success. The relationships you form here will continue after you complete your program of interest."
Take the Next Step