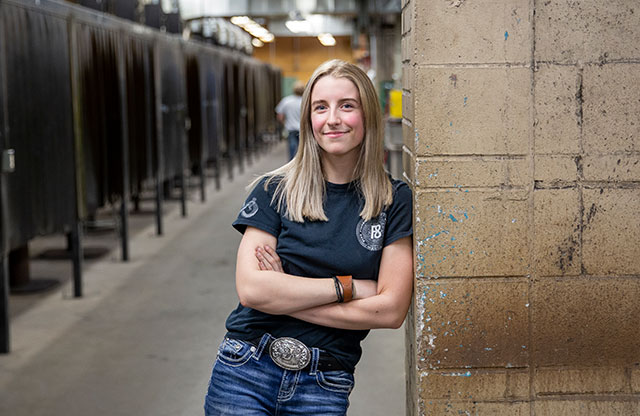 January 31, 2023
Glass blowing inspired student to pursue welding profession
Janie Sands is no stranger to melting incredibly hot materials and melding them together. The first-generation college student discovered her interest in welding through her PSEO courses in high school while taking a glass blowing class. She made the connection between some of the work being done with the stained-glass process to welding techniques and her interest in the profession strengthened.
"I love stained glass – it's soldering – it's welding – I was welding before I even knew I was doing it," she said.
Janie said  she is someone who needs to be up and about doing things throughout her day and welding was the perfect fit for her. She also loves welding because she is constantly learning new things every day.
"With welding – I get to work out in a field and see new places or in the shop I'm doing something different every day" Janie said.  
Anoka Technical College stood out because of the financial aid grants. Janie is on track to be the first in her family to finish college while paying for everything by herself.
Janie also felt inspired to join the welding profession through a family connection.
"A family member [grandfather] of mine was also a welder for the railroad and I wanted to be just like him and go on this path as well," Janie said.
A dedicated and hard worker, Janie spends 16 to17 hours away from home each day between work and school. Anoka Technical College has been a big help in navigating the program to encourage a balance work and school.
She is on track to graduate in two and a half years through the pipefitters class and apply for the apprentice program with the Boilermakers after that. She appreciates that faculty and staff are flexible in helping her out when she needs assistance with classes or balancing everything going on in her life.
Janie would love to see more females in welding. Female welders are a strong asset in the shop and Janie loves learning all about what welding has to offer. She encourages other students to "just go for it – you'll find your spot in it."
Take the Next Step