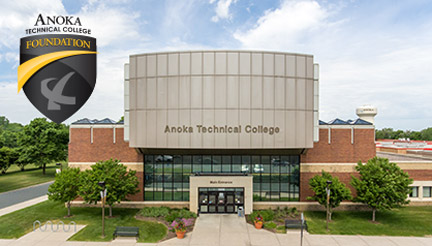 In the education environment, being innovative and providing a high-quality education means providing students the support they need to succeed inside and out of the classroom.
From securing funds or donations of equipment to keeping scholarships and crisis grants funded, the Anoka Technical College Foundation team worked to help distribute more than $165,000 in scholarships in the 2019-2020 academic year and $10,000 in crisis grants.
"Currently, we are meet the majority of requests from students for scholarships and crisis grants," said Pam Russell, the Anoka Technical College Foundation director. "We are proud of this kind of impact. It wouldn't be possible without the generous, ongoing support of foundation donors."
While the world is rapidly changing, the vision of the foundation continues to remain the same — to support the college, its faculty, students and programs.
"In light of COVID the vision hasn't changed, but the way I work has," shared Russell. Each week, Russell meets with her peers at the Anoka-Ramsey Community College Campus foundations to connect on their work with an intersection of donors.
"During COVID, it was important to us to connect with donors, not to make an ask, but just to check in and make sure they had an opportunity to ask questions about the status of the college. The college has more than 70 programs for students to choose from. My vision is to ensure that there are resources available to students to pursue the career and program that they want," said Russell.
Beyond scholarships, securing major equipment is important for Anoka Tech. A big win for the foundation was the arrival last spring of state-of-the-art equipment in the Machine Trades program. Machine Trades trains students to work as CNC service technicians. CNC techs play a vital role in maintaining and servicing industrial equipment. They inspect, calibrate, maintain, and repair equipment.
"By securing state-of-the-art equipment, Anoka Tech students can receive training on cutting edge machines and look forward to placement in higher-paying jobs," says Russell.    
Support the Anoka Tech Mission
The Anoka Technical College Foundation welcomes donations of vehicles and surplus materials from manufacturing and construction companies such as wire, steel studs, sheet metal, plywood and more. Students rely on cash donations for scholarships and crisis grants. Please contact Pam Russell at pamela.russell@anokatech.edu to discuss making a cash or a non-cash gift.
Take the Next Step