October 07, 2019
Chief Human Resources Officer awarded Minnesota State's 2019 Human Resources All-Star Award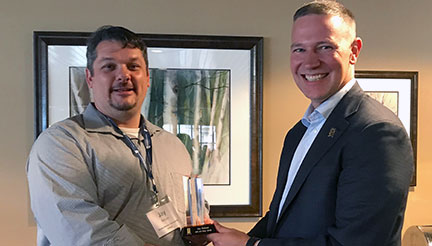 Jay Nelson, chief human resources officer at Anoka Technical College and Anoka-Ramsey Community College, was selected as a recipient of Minnesota State's 2019 Human Resources All-Star Award. Nelson was presented with the award at the Minnesota State Human Resources Fall Conference at Sugar Lake Lodge in Cohasset, Minn. on Thursday, Oct. 3. He received the award after a nomination from college President, Kent Hanson.
In the past decade with the colleges, Nelson has found success as both interim director of human resources and in his current role where he streamlined the hiring process, significantly reducing the length of the typical process, and developed a pilot program for onboarding new employees. He also created communication tools to increase transparency with hiring committee members and supervisors. 
Additionally, Nelson developed new strategies to recruit and retain people of color in alignment with the colleges' strategic diversity and inclusion plan. From FY2014 to FY2018, the percentage of employees of color at Anoka-Ramsey rose almost five percent.
"Jay does an excellent job of finding resolutions to challenging situations. He utilizes available resources to make informed decisions," said Hanson.
Collaboration was also a priority for Nelson as he improved the hiring process at Anoka-Ramsey and Anoka Tech. He worked to identify individuals on the human resources team who were experts in a particular area and reorganized the department's efforts to more effectively align the staff across the two colleges and three campuses. 
He did all of this while fostering strong relationships throughout the department and the campuses.
"Jay always puts employees first in his decisions and prioritizes strong partnerships with faculty and staff in all we do. He lives these values in his daily work at the colleges," said Hanson.
Read more about award-winning Anoka Technical College faculty and staff at AnokaTech.edu/News.
Take the Next Step