October 14, 2021
Anoka Technical College recognized as Hunger Free Campus by LeadMN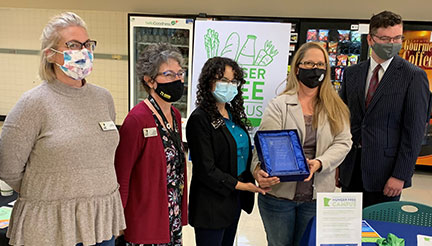 Anoka Technical College and LeadMN hosted a ceremony to recognize the college's designation as a Hunger Free Campus, Monday, Oct. 11. 
Anoka Technical College was one of the first colleges to receive the designation in January 2020 after the opening of the on-campus food shelf, Feed Your Need Food Pantry
A Hunger Free Campus is a Minnesota State community and/or technical college that is actively taking strides to reduce food insecurity amongst students. To be awarded the Hunger Free Campus designation, a campus must meet the following minimum criteria:
Have a food pantry, partnership with a food bank, or some type of food distribution system on campus available to students.

Have a designated staff person on campus to educate students on SNAP and other public services aimed to reduce food insecurity. 

Provide emergency funds to assist students who may be experiencing basic needs insecurity.

Have a taskforce dedicated to addressing food insecurity concerns.

Host or participates in at least one hunger awareness event each year.
The Feed Your Need Food Pantry at Anoka Tech is open Tuesday – Thursday on campus for students. Provided in partnership with HOPE for the Community and Second Harvest Heartland, the food pantry served an average of 50 to 60 students and families each day the pantry was open its first year, double the expected demand.
Take the Next Step