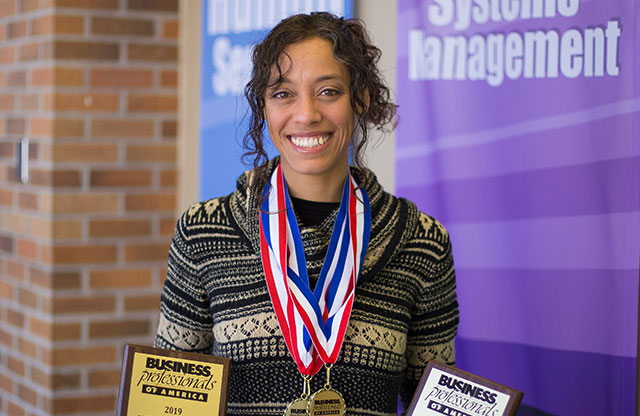 March 19, 2019
Anoka Tech IT student places in Business Professionals of America Leadership Conference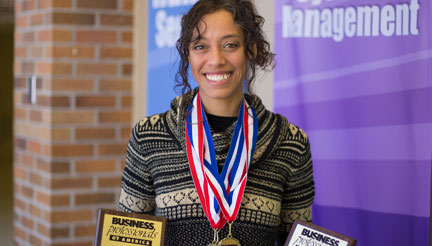 Natalie Zabrzenski, a student in the Information Technology (IT) program at Anoka Technical College recently competed in the annual Business Professionals of America (BPA) State Leadership Conference. Zabrzenski placed in three categories, securing a spot in the national competition this May.
Zabrzenski began attending Anoka Tech in the fall of 2017 and is currently working towards an Associate of Applied Science degree in Web Development and Graphic Design. She joined BPA as a way to build her resume in a way that supports her classroom work and fits with her full-time work schedule.
"I feel BPA has helped my work because there is a goal, something I can strive for while putting the skills I have to use in a new light," said Zabrzenski. "Class assignments have creative freedom, but BPA puts that creativity and those skills to work, while simultaneously testing my knowledge and offering feedback to guide me in the right direction. It has pushed me outside my norm and had me seeking more information."
In the state competition, Zabrzenski participated in five events and placed first in graphic promotion and desktop publishing, second in graphic design and third in web design.
"The toughest, in my case, was the graphic design promotion. Here the creative freedom was endless. I was asked to create a flyer and a logo with a tag line. The only stipulations were to avoid copyright infringement and similarities to previous winners."
In early May, Zabrzenski will represent Anoka Tech at the national BPA competition in Anaheim, Calif. Looking further down the road, Zabrzenski hopes the experiences through the BPA, competitions and the education she is receiving at Anoka Tech will open career opportunities in front-end web development and freelance graphic design.
Learn more about the IT program at Anoka Tech.
If you're a current student and interested in the Business Professionals of America or other campus clubs and organizations visit the student services page at AnokaTech.edu.
Take the Next Step