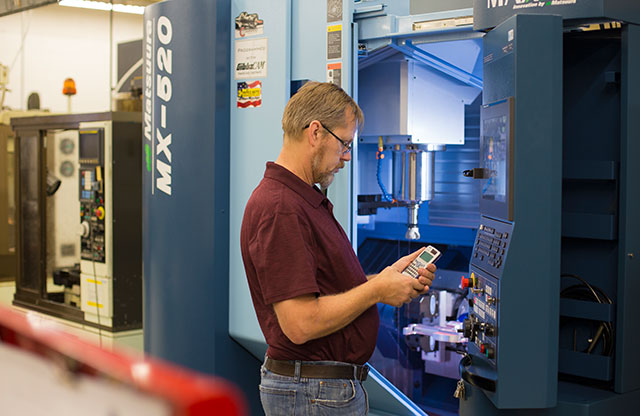 March 01, 2019
A catalyst for strengthening the community and providing career opportunities
Machining and cutting granite, programming and repairing equipment, setting up tools for cutting and maintaining the same pieces of equipment are not standard job duties for a countertop installer, but those exact tasks were assigned to Paul Gustafson on his first day on the job.
 "My first day, I was moved into a position of a fabricator. I didn't necessarily have the skills or training so I learned on the job," said Gustafson.
After 10 years with the company, Gustafson found himself out of work.  
A New Career Choice
With no formal schooling, Gustafson turned to the Minnesota Workforce Center's career development courses to help determine his next steps.
"I discovered along the way that CNC machining would be fitting for me. Jobs are readily available with reasonable pay, but I needed the training."
That's what brought Gustafson to Anoka Technical College. He received two scholarships from Graco through the Anoka Technical College Foundation to help make his education possible.
But Graco and the foundation provided more than scholarships, they provided connections. Gustafson was introduced to individuals at Wilson Tool International and became a paid intern, a position he held for almost a year while in school.
Manufacturing Partners
Graco and Wilson Tool International are just two of the roughly 80 companies in Anoka Tech's manufacturer's cohort of partners. The goal of this formal cohort is to be a catalyst for strengthening the community of manufacturing – accelerating a transformation into a more efficient and powerful engine of innovation, job creation and economic growth. Other partners include, Medtronic, Command Tooling Systems, Mate Precision Tooling and Cretex Companies.
"rms Company, and Cretex, our parent company have been supportive of Anoka Technical College for years," said Lee Zachman, president at rms Company. "We recognize the need for more technical skills and we want to help the local tech schools. We feel the training students receive at Anoka Tech are beneficial to rms, and others in the manufacturing sector."
These partnerships are beneficial to students like Gustafson and the manufacturing industry as a whole.
Equipment and Training to Meet Workforce Needs
During his time in the CNC Machining program at Anoka Tech, Gustafson developed a particular interest in a piece of state-of-the-art equipment: the recently donated, the Matsuura 5-Axis Mill. The acquisition of this $325,000 piece of equipment was made possible through a combination of state funding, county funding and fundraising donations from industry partners and generous individuals in the community.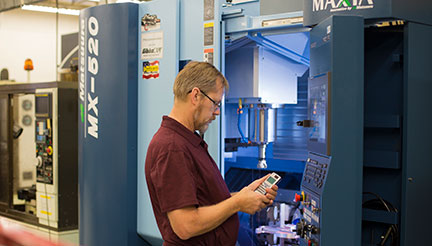 Student Paul Gustafson, working on his capstone project using the Matsuura 5-Axis Mill. 
Matt Rogers, Anoka Tech Machine Trades Instructor described this acquisition as "the equivalent to a Ferrari for the Automotive program."
Gustafson spent more time working with it than most students, and used it to design and machine his capstone project to complete the program.
Having access to this type of equipment provides students with the ability to develop current technical skills meeting industry demands.
"It allows us to synchronize our program and students up with what is already on industry floors," said Rogers.
rms Company, and many other partners in the cohort, use this same mill in their operations. "We find that students who are familiar with the technology shorten the time it takes us to train. While we welcome all students who have come through the machining program, it is always nice to have those who are familiar with the machining platforms we use," said Zachman.
That's part of the reason Cretex Companies has a machining development intern program partnership with Anoka-Tech similar to the internship Gustafson held with Wilson Tool International. Through sponsorships, donations, internships and apprentice programs, Anoka Tech continues to partner with manufacturers in the cohort with workforce planning at the forefront. 
For example, interns with Cretex work part-time during the school year and full-time in the summer. They are paid for their time receiving hands-on training outside of the classroom. Along with pay, interns are eligible for tuition reimbursement as long as grades and attendance requirements are met. Once completing the program at Anoka Tech, full-time opportunities for employment are often available.
Train to Gain
After graduating in fall 2018, Gustafson made the decision to continue his education and stayed at Anoka Tech to complete credits towards his Associate in Applied Science (AAS) degree before entering the workforce.
With the passion he found of programming and machining with the Matsuura Mill, Gustafson hopes to have a career when he finishes working with the mill and possibly even teaching others. Thanks to the partnerships and opportunities available through Anoka Tech, Gustafson is confident that his hope will soon be reality.  
-
To learn more about Anoka Tech's Engineering, Manufacturing and Technology programs visit anokatech.edu/ProgramsCourses/EngManufTech.
Take the Next Step