April 17, 2020
Occupational Therapy Assistant Program faculty adapt to online learning
Occupational Therapy practitioners are used to getting creative to modify a task in order to complete it. It's what they help clients do every day. So, it's no surprise Anoka Technical College's Occupational Therapy Assistant (OTA) faculty were able to modify the traditional lab class to help students successfully complete their spring semester courses.
When Governor Walz announced the "Stay At Home" order due to the COVID-19 pandemic, all face-to-face instruction at Anoka Tech was suspended. Julie Grivna, Becky Johnson and Barb Kloetzke, the OTA faculty team, needed to figure out a way for students to be able to demonstrate some of their lab skill competencies virtually.
"We put our heads together and proposed that we purchase some assistive technology equipment the students could use and practice at home," shared Kloetzke. "North Coast Medical, Inc. provided the equipment with our educational discount and shipped the order within five days."
Classes resumed virtually on April 6 and OTA students were able to get their lab equipment kits via curbside pick-up on Thursday, April 17.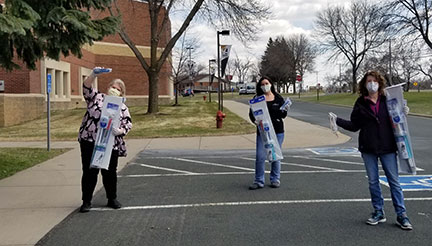 "Luckily the equipment came prepackaged, so it was easy curbside delivery, complete with protective gear," Kloetzke said.
To complete the lab components of the course, students will record and upload a video of their teaching skills to demonstrate how to use and teach adaptive dressing techniques for clients who may have limited bending capacity due to hip surgery, respiratory illnesses or decreased balance and safety.
The kit also included a transfer belt for practicing functional transfers and a small goniometer so the students can practice measuring joint range of motion in the hand, wrist and elbow.
Take the Next Step